Dr. Richard Schulze, Jr.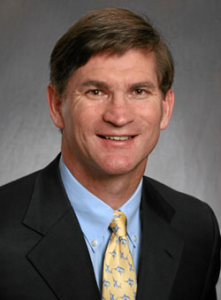 Dr. Richard Schulze, Jr. joined his father in practice in 1995. A magna cum laude graduate of Princeton University, he went on to study English literature at Oxford University, receiving his M. Phil. degree, before graduating with his M.D. from the University of Virginia in 1990. He performed his internship at Roanoke Memorial Hospital in Virginia before moving on to his residency in ophthalmology at the Ochsner Clinic in New Orleans.
After a year of fellowship training in anterior segment surgery of the eye at the Kentucky Eye Institute, Dr. Schulze, Jr. returned home to Savannah in partnership with his father. Dr. Schulze, Jr. is a member of the American Medical Association, the American Academy of Ophthalmology, the American Society of Cataract and Refractive Surgery, the International Society of Refractive Surgery, and the Medical Advisory Board of the Georgia Eye Bank.
Dr. Schulze, Jr. specializes in cataract and refractive surgery. Outside of ophthalmology, his interests include windsurfing, sailing, fishing, hunting, farming, and literature.
---